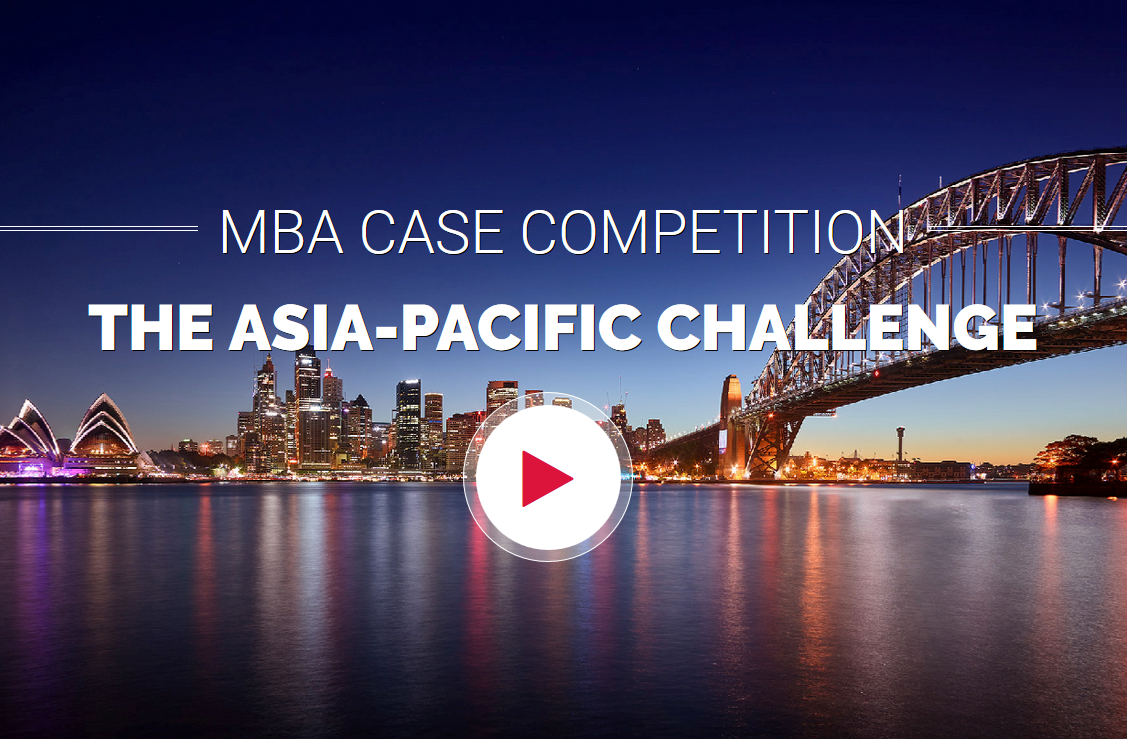 The Asia-Pacific Challenge
December 14, 2017
Asia-Pacific is the fastest growing economic region in the world. This growth brings prosperity but also complex business challenges. This awareness is the inspiration behind the first edition of "THE ASIA-PACIFIC CHALLENGE - MBA Case Competition". The theme of the inaugural competition will be Engagement in Asia.
Description
Format and Rules of the Case Competition
Each school must be represented by a team of three students and one coach. However, the coach is not allowed to participate in the analysis and preparation of the case.
Teams will simulate a consultancy firm that must present solutions to a real business problem faced by an organisation seeking to start or grow business in Asia. Participating teams will receive the actual case problems on the scheduled day and will be allocated a timeframe, depending on the intensity of the round, to prepare presentation decks. They will present their proposals to a panel of judges which would then be followed by a Q&A session.
All teams will be provided with the same amount of working time for analysis and preparation, and will then present to the panel of judges. All teams will participate in three preliminary rounds and the three highest scoring teams will compete in the final round of competition.
The rounds are described in more detail below:
- Preliminary Rounds (12 teams)
Results will be announced at the completion of each of the three preliminary rounds. From the time the case is released until the presentation to the panel, each team will work individually in their assigned room. The weights assigned to each activity and specific details are shown below:
- Case: 1 - Weight: 30% - Analysis & Preparation: 2h30 - Presentation to judges: 10 minutes presentations - Q&A: 10 minutes.
- Case: 2 - Weight: 20% - Analysis & Preparation: 1h - Presentation to judges: 5 minutes pitches - Q&A: 10 minutes.
- Case: 3 - Weight: 50% - Analysis & Preparation: 3h - Presentation to judges: 15 minutes presentations - Q&A: 15 minutes.
- Final Round (3 teams)
The top 3 highest scoring teams will be asked to present the third case again after taking into consideration the feedback received from the judging panel and consultation with the coaches. The specific timelines are given below:
- Case: 3 - Analysis & Preparation: 1h30 - Presentation to judges: 15 minutes presentation - Q&A: 15 minutes.
2016 Finalists
- Nanyang Business School, Singapore
- MGSM, Sydney
- Guanghua School of Management, Peking University, China (Winner of the Asia-Pacific Challenge 2016)
The winners of the competition, Guanghua School of Management, took home $5K cash award, a winner trophy, and medals.
Click on the links below and access all the results & competition pictures:
-
Facebook
-
Twitter
-
LinkedIn
Eligible Schools
AGSM - UNSW
Asian Institute Of Management
Guanghua School Of Management (Peking University)
Indian Institute Of Management - Ahmedabad
Indian Institute of Technology - Delhi
Macquarie Graduate School Of Management
National University Of Singapore
SP JAIN School of Global Management
University Of Otago
University Of SydneyNanyang Technological University
Prize
The winning team will be awarded AUD 5,000.