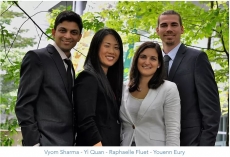 HEC Corporate Responsibility Challenge
February 17, 2018
The HEC Corporate Responsibility Challenge is a two-day case competition. We host MBAs from all over the world as they provide solutions that will advance the role business leaders can play in contributing to the betterment of their communities. We use the event to solve actual cases written specifically for HEC Montréal. It's also a great way to network and socialize with MBAs from all over!

----------------

Le défi de la responsabilité d'entreprise de HEC Montréal est une compétition se déroulant sur deux jours. Nous accueillons des étudiants MBA de partout à travers le Canada qui proposent des solutions créatives pour mettre en l'avant le rôle des entreprises dans l'épanouissement de leur communauté. Nous profitons de cette compétition pour résoudre des cas réels spécialement écrits pour HEC Montréal. C'est aussi une belle occasion de réseauter et partager avec des étudiants au MBA du monde entier!
Description
About the Competition

This year's competition will include live cases with real organizations who will be part of the competition. The theme will be more broadly oriented towards corporate responsibility and addition of Artificial Intelligence / Big Data this year, along with innovative approaches to sustainability, in order to provide a diverse and spirited experience. The competition will include distinguished guests from the CSR sector and Artificial Intelligence Sector, and will be an excellent networking opportunity whether among industry leaders or like-minded MBA students.

The ninth edition of the HEC Montréal Challenge is a great opportunity for MBA students to apply analytical skills to a current corporate responsibility issue and find an original and practical solution. Teams will present their recommendations to a panel of judges, which will include senior executives from leading corporations.

Previous winners of the HEC Case Competitions were:
​
- 2017: Dalhousie University
- 2016: Telfer University
- 2015: Ryerson University

Why HEC Montreal?

- HEC was the first North American school to be awarded the three most prestigious international accreditations in its field: AACSB International, EQUIS and AMBA.
- HEC Montreal MBA's program regularly ranks amongst the best universities in Canada. 
- HEC Montreal is actively involved in sustainability and social responsibility initiatives.
- HEC Montreal students participate in many other Case Competitions around the world, and would love to host you at ours!

Why HEC Challenge?

- We have partnered with local organizations to include real "live" case problems as part of the competition, so you can help make an impact in the entrepreneurial community
- Expand your professional and social network by meeting a wide array of MBA students and CSR professionals.
- Develop your case analysis and presentation skills by participating in feedback sessions given by a panel of judges.

Registration

Challenge your mindset to tackle today's business problems and join MBA students from around the globe in a friendly competition!

- Early Registration: if teams register prior to December 1st, 2017, the cost will be $450 CAD per team
- Team registration following the above date will cost $550 CAD per team.
- Last day to register is January 19, 2018.
- Date of the Event - 16 - 17th February 2018

A Few Numbers

- 300 participants
- 3 cases
- 20 MBA teams
- 2 days

----------------

Résumé de la compétition de 2018

L'édition de cette année inclura des cas réels provenant de vraies organisations qui feront partie de la compétition. Le thème sera plus largement orienté vers la responsabilité d'entreprise et sur les approches novatrices en matière de durabilité, avec l'ajout de l'intelligence artificielle/"big data" cette année, le tout afin de fournir une expérience diversifiée aux participants et participantes. La compétition comptera des invités de marque du secteur RSE et sera une excellente opportunité de réseautage avec les leaders de l'industrie et avec les étudiants MBA.

La neuvième édition du Défi HEC Montréal est l'occasion idéale pour les étudiantes et étudiants MBA d'appliquer leurs compétences analytiques pour trouver une solution originale à un vrai problème de RSE. Les équipes présenteront leurs recommandations à un panel de juges qui comprendra des dirigeants de grandes entreprises.

Voici les universités gagnantes des éditions précédentes :
​
- 2017: Dalhousie University
- 2016: Université d'Ottawa
- 2015: Ryerson University

Pourquoi HEC Montréal?
​
- HEC est la première école en Amérique du Nord à détenir les trois accréditations internationales les plus prestigieuses dans son domaine : AACSB International, EQUIS et AMBA.
- Le programme de MBA de HEC Montréal se classe régulièrement parmi les meilleurs au Canada.
- HEC Montréal s'investit activement dans des initiatives de durabilité et de responsabilité sociale.
- Les étudiantes et étudiants de HEC Montréal participent à de nombreuses compétitions à vocation académique partout dans le monde et nous serions ravis de vous accueillir à la nôtre!

Pourquoi Défi HEC?
​
- Nous avons établi un partenariat avec des organisations locales pour inclure des problèmes réels dans le cadre de la compétition. Vos solutions pourraient ainsi avoir un impact dans la communauté entrepreneuriale!
- Vous développerez votre réseau professionnel en rencontrant un grand nombre d'étudiants MBA et de professionnels du secteur de la responsabilité sociétale des entreprises (RSE).
- Cette expérience vous permettra de développer vos compétences de communication et d'analyse en participant à des séances de rétroaction et d'encadrement données par un panel de juges.

Inscription

Défiez votre créativité pour aborder les problèmes d'affaires d'aujourd'hui et rejoignez les étudiants MBAs dans une compétition amicale!

Les modalités d'inscription pour le Défi HEC de la responsabilité d'entreprise sont les suivantes:
- Avant le 17 décembre le coût d'inscription sera de 450 $ CAD par équipe.
- Après le 17 décembre, le coût d'inscription sera de 550 $ CAD par équipe.
- Date limite pour s'inscrire - 19 Janvier 2018

Quelques Chiffres

- 300 participants
- 3 cas
- 20 équipes MBA
- 2 jours
Prize
Participating universities can send up to two teams, composed of four students each. The three highest scoring teams will receive the following prizes (CAD):
- 1st Place: $5000
- 2nd Place: $3000
- 3rd Place: $1000
Les universités participantes peuvent envoyer jusqu'à deux équipes, composées de quatre étudiants chacune. Les trois équipes gagnantes recevront les prix suivants (en dollars canadiens) :
- 1ère place : 5 000$
- 2e place : 3 000$
- 3e place : 1 000$