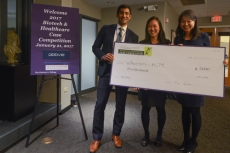 Kellogg Biotech & Healthcare Case Competition
January 29, 2022
It is the biggest business school case competition with the longest history in the healthcare space, sponsored in recent years by the biopharmaceutical company AbbVie, that brings together MBA-student teams from business schools nationwide.
Description
2022 Kellogg Healthcare Case Competition

The 19th annual Kellogg Biotech and Healthcare Case Competition will take place on January 29, 2022. Teams can win up to $5,000. This year's competition is sponsored by Moderna.

The event, one of the oldest and most recognized healthcare case competitions in the world, will be back in-person in 2022. Last year, the competition was virtual due to the pandemic.

Teams of MBA students from around the world are invited to participate. Teams should be 3 to 5 people, and applications are due December 10. Approximately 12 teams will be invited to compete in the final round on January 29. Teams will be notified of their status by December 17.

The topic will be announced in January. The 2021 competition focused on building COVID vaccination rates. In previous years, teams have considered how to boost use of chlorhexidine in Nigeria, how to price the Gardasil HPV vaccine and the value of Palforzia, a new treatment for peanut allergies.

In 2021, more than eighty teams applied to event. Sixteen schools were represented in the final round, including Duke-Fuqua, Maryland-Smith, Berkeley-Haas, Harvard, Wharton, London Business School and UT-McCombs. In the end, a team from The University of Chicago Booth School of Business took home the top prize. Second place went to a team from Georgetown University McDonough School of Business, with teams from DeGroote School of Business - McMaster University and Esade rounding out the Top Four.