Connecting MBAs and Employers
across the World
Create your Account
Already have an account? Login here
Find your next career move. Watch our 90-seconds video!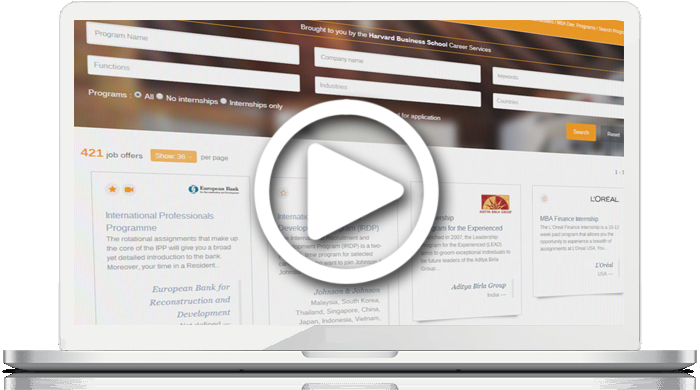 Discover how we can help you
A sample of what we have for you
Jan 22nd
Restoration Business Development Manager*. Excellent communication skills:. Works with Operations personnel to resolve customer service issues in a timely...

Benchmark inc

The BLDP is a 2-year rotational program for recent MBA graduates from leading business schools to enter AECOM and receive tailored development experiences leading to a management position in the compa...
AECOM
In this presentation entitled How to Use Social Media to Get Found and Land a Job Faster, Miriam Salpeter, Job Search/Social Media Coach and author of the book Social Networking for Career Success sha...
Strategy& (Formerly Booz & Company) is a global management consulting arm of assurance and management consulting firm PricewaterhouseCoopers established in the United States in 1914. The firm was acqu...
Jan 22nd
Research and develop business leads. 2 years of Business Development and Sales of technology products and services....

Bavelle Technologies
Just like we have MaslowÂ's Hierarchy when it comes to human needs and desires, I feel personal investments also follow a hierarchy based on the total amount of money available for investments.. The B...

The Gartner Finance team is a key business partner charged with understanding the company's operating models, articulating the drivers of financial performance, and anticipating the financial impact o...
Gartner, Inc.
Jan 22nd
The Senior Financial Reporting Manager is responsible for applying appropriate GAAP requirements as needed, creating processes, and setting policy....

Clark Construction
Akzo Nobel N.V. is a paints and coatings company, and a producer of specialty chemicals. The Company operates in business areas, such as include Decorative Paints, Performance Coatings, Specialty Chem...

You're the brains behind our work.. You're ready to bring your knowledge from the classroom to the boardroom, and Citi wants to help you get there. Whether it's honing your skills or building your net...
Citi
Jobs
Development Programs
Employer Directory
Events
Knowledge
Here's what our members are saying...

Our students and staff have found MBA-Exchange.com to be one of the most user-friendly and comprehensive resources for MBA students seeking both US and global opportunities, not only the most exhaustive list of leadership development or rotational programs, but the research capabilities regarding jobs, hiring and insights into the MBA hiring market. It is one software platform that truly complements any recruiting software an office may be using.

Wouldn't know where to refer my students for another one-stop resource at this high caliber, if MBA-Exchange.com wasn't available.

Mark Brostoff, Assistant Dean and Director, MBA Career Services, USC Marshall School of Business
Corporate Clients Include
About MBA-Exchange.com
Helping MBA students explore the right jobs, leadership programs and employers, across industries and geographies, is our primary objective.
We bring them unique information unavailable anywhere else and make it easy to identify more career opportunities while saving them time.

We are careers experts, serving Masters, MBAs, Business Schools and Employers.
Learn more about us.
Get access to MBA jobs, development programs, employers, online events and more