Connecting MBAs and Employers
across the World
Create your Account
Already have an account? Login here
Find your next career move. Watch our 90-seconds video!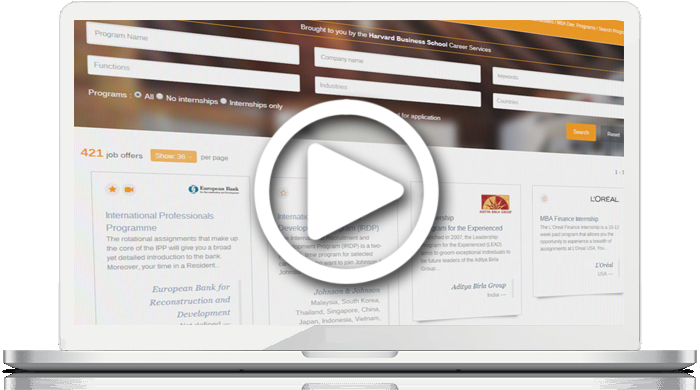 Discover how we can help you
A sample of what we have for you
Feb 23rd
Master's degree with one year Title IV/financial aid experience and one year experience in planning, administration and implementation of credit counseling,...

University of South Florida

Function. The Strategy Leadership Development Program (SLDP) is LORD Corporation's MBA talent pipeline for future leaders of the company. In the SLDP, Global Business Strategists work on a broad range...
LORD Corporation
Learning the distribution of a desired variable in a random sample using M&MÂ's, hmmmÂ….. seems to be a really interesting and colorful way to understand statistics. But itÂ's uncanny that how sometim...
A non-profit 501(c)(3) organization, Cultural Vistas has used career exploration to facilitate connections between Americans and international visitors for more than 60 years.. Our Name. In July 2011,...
Feb 23rd
This role is the hub of centralized strategy - managing project work, communications, and "leading" strategic initiatives through effective cross functional,...

Empire Search Group
The future is one in which you probably won't have 'a job'. That is not to say you won't work, just that you will work in fundamentally different ways.. How we work, with whom, what we do and for ...
Are you a results-driven individual who finds that others typically gravitate towards your ideas and follow your lead? Are you excited by navigating new markets and cultures to grow opportunities? Ar...
Specialized Bicycle Components
Feb 23rd
This role is the hub of centralized strategy - managing project work, communications, and "leading" strategic initiatives through effective cross functional,...

Empire Search Group
Since our establishment in 1991 we have become the largest financial investor in our region of operations which stretches from central Europe to central Asia and the southern and eastern Mediterranean...

How high do you want to go? If you've set your sights on the top then the Mars U.S. Graduate Leadership Development Program (GLDP) is a great start. Because you'll find alumni of our GLDP leading busi...
Mars Inc.
Jobs
Development Programs
Employer Directory
Events
Knowledge
Here's what our members are saying...

Our students and staff have found MBA-Exchange.com to be one of the most user-friendly and comprehensive resources for MBA students seeking both US and global opportunities, not only the most exhaustive list of leadership development or rotational programs, but the research capabilities regarding jobs, hiring and insights into the MBA hiring market. It is one software platform that truly complements any recruiting software an office may be using. Wouldn't know where to refer my students for another one-stop resource at this high caliber, if MBA-Exchange.com wasn't available.

Mark Brostoff, Assistant Dean and Director, MBA Career Services, USC Marshall School of Business

The MBA-Exchange.com team delivers! They've been highly responsive and proactive in ensuring our student utilization objectives are met. It is also refreshing to see the continuous efforts to further improve their product. We have been very pleased

Randall Lewis, Executive Director, Purdue University

I have known MBA-Exchange.com for many years and I am always impressed by their ongoing innovation and ability to bring valuable services to MBA students. MBA-Exchange.com provide an intuitive and smooth user experience.

Catherine Chassanite,International Career Development Consultant, Audencia Business School
Corporate Clients Include
About MBA-Exchange.com
Helping MBA students explore the right jobs, leadership programs and employers, across industries and geographies, is our primary objective.
We bring them unique information unavailable anywhere else and make it easy to identify more career opportunities while saving them time.

We are careers experts, serving Masters, MBAs, Business Schools and Employers.
Learn more about us.
Get access to MBA jobs, development programs, employers, online events and more