Connecting MBAs and Employers
across the World
Create your Account
Already have an account? Login here
Find your next career move. Watch our 90-seconds video!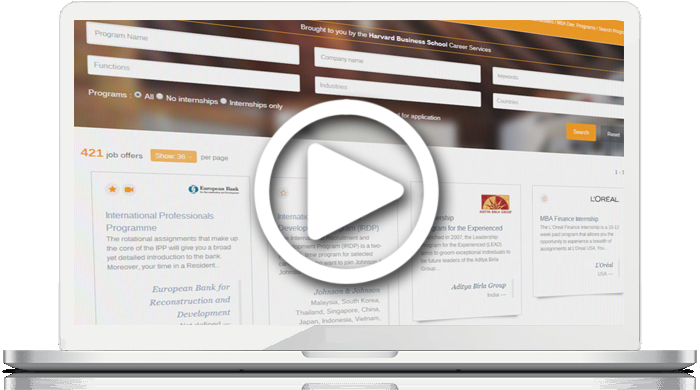 Discover how we can help you
A sample of what we have for you

Mar 22nd
Successfully maintain key financial reporting applications and lead process improvement implementations....

Danaher

The Women in Leadership Event on March 14-15th, 2017 gives an overview of how different companies address this topic and what actions they are taking. Do they have positive discrimination initiatives?...

For more than 25 years, the Johnson & Johnson International Recruitment and Development Program. (IRDP) has proven its value, both in accelerating the leadership potential of participants and in its s...
Johnson & Johnson
All business processes have multiple components. These components involve products and services which can either be produced by the business itself (i.e. in-house production), sourced from a few speci...
Mar 22nd
Sr Financial Analyst. Continuous improvement in data analytics, business intelligence, and reporting efficiency effectiveness....

Hill-Rom
Lockheed Martin Corporation is a security and aerospace company. The Company operates through four segments. Aeronautics segment is engaged in the research, design, development, manufacture, integrati...
Interested in a summer internship? Look no more!. J&J IRDP Internship is a development program that identifies highly qualified candidates to join our teams in Mexico, Argentina, Puerto Rico and Colom...
Mar 22nd
The Category and Promotional Analyst role, part of the Business Intelligence and Analytics function, is responsible for providing analysis for product category...

Electrolux

Cigna's Financial Development Program (FDP), a unique rotational leadership program, helps build a financial foundation for individuals aspiring to be leaders in a health service company. Many of our ...
Cigna Corporation

PROMOTIONAL CODE: mbaexchange ¦ MBA-Exchange.com is pleased to help promoting the upcoming ELEVATE conference, a day of dynamic programming to empower professionals to move from silent supporters to ...
You don't have to twirl a red cape in front of this bull to get a charge out of it. Red Bull markets its eponymous energy drink around the globe. The nonalcoholic drink contains the amino acid taurine...

Program description. The Wells Fargo Wealth, Brokerage and Retirement (WBR) Internship Program is ideal for enrolled MBA candidates interested in working in a collaborative environment focused on prov...
Wells Fargo

The Pharmaceutical Marketing and Corporate Finance Rotational Programs place high-performing MBA graduates who previously interned at Pfizer as Summer Associates into full-time positions across the bu...
Pfizer Inc
Jobs
Development Programs
Employer Directory
Events
Knowledge
Here's what our members are saying...

Our students and staff have found MBA-Exchange.com to be one of the most user-friendly and comprehensive resources for MBA students seeking both US and global opportunities, not only the most exhaustive list of leadership development or rotational programs, but the research capabilities regarding jobs, hiring and insights into the MBA hiring market. It is one software platform that truly complements any recruiting software an office may be using. Wouldn't know where to refer my students for another one-stop resource at this high caliber, if MBA-Exchange.com wasn't available.

Mark Brostoff, Assistant Dean and Director, MBA Career Services, USC Marshall School of Business

The MBA-Exchange.com team delivers! They've been highly responsive and proactive in ensuring our student utilization objectives are met. It is also refreshing to see the continuous efforts to further improve their product. We have been very pleased

Randall Lewis, Executive Director, Purdue University

I have known MBA-Exchange.com for many years and I am always impressed by their ongoing innovation and ability to bring valuable services to MBA students. MBA-Exchange.com provide an intuitive and smooth user experience.

Catherine Chassanite,International Career Development Consultant, Audencia Business School
Corporate Clients Include
About MBA-Exchange.com
Helping MBA students explore the right jobs, leadership programs and employers, across industries and geographies, is our primary objective.
We bring them unique information unavailable anywhere else and make it easy to identify more career opportunities while saving them time.

We are careers experts, serving Masters, MBAs, Business Schools and Employers.
Learn more about us.
Get access to MBA jobs, development programs, employers, online events and more