Connecting MBAs and Employers
across the World
Create your Account
Already have an account? Login here
Find your next career move. Watch our 90-seconds video!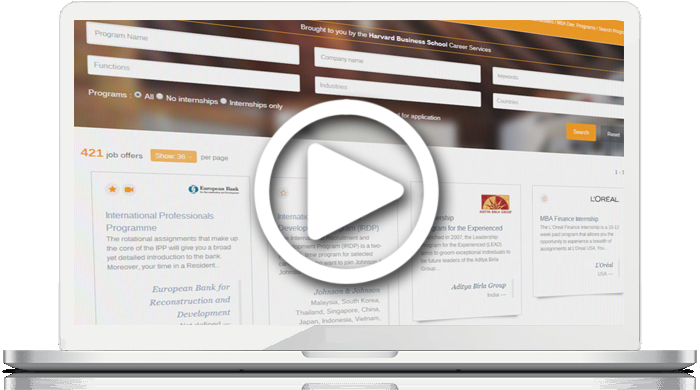 Discover how we can help you
A sample of what we have for you
Feb 19th
Director of Nursing and Quality - Psychiatry. Enjoy competitive compensation along with benefits such as tuition reimbursement, hospital retirement...

NewYork-Presbyterian/Weill Cornell Medical Center

Role Description . At Pfizer, you'll find an inclusive environment, challenging projects and the opportunity to own your career. Seize the ability to think differently and collaborate with innovative ...
Pfizer Inc
Learning the distribution of a desired variable in a random sample using M&MÂ's, hmmmÂ….. seems to be a really interesting and colorful way to understand statistics. But itÂ's uncanny that how sometim...
Berkshire Hathaway Inc. is a holding company owning subsidiaries engaged in various business activities. The Company conducts insurance businesses on both a primary basis and a reinsurance basis, a fr...
Feb 19th
-OR- Bachelor's Degree in management or related discipline with 20 years of program management experience on technical programs....

USfalcon
The future is one in which you probably won't have 'a job'. That is not to say you won't work, just that you will work in fundamentally different ways.. How we work, with whom, what we do and for ...

Job Description. You have the talent. You have the drive. You just need the chance. Get it with the Graduate Management Associates Program - Corporate Finance Track, a two-year rotational program base...
Toyota

Feb 19th
Key Business Partners 1. Partners very closely with adjacent IT teams supporting biologics, quality, supply chain and pharm development....

Bristol-Myers Squibb
Bertelsmann SE & Co KGaA is a Germany-based media holding corporation that provides information, education and entertainment around the world. The Company operates through five segment: the RTL Group ...

Overview. Our Global Investment Banking division looks for energetic, bright and talented graduates for our Associate program. This well-established program has produced many of the industry experts t...
Royal Bank of Canada
Jobs
Development Programs
Employer Directory
Events
Knowledge
Here's what our members are saying...

Our students and staff have found MBA-Exchange.com to be one of the most user-friendly and comprehensive resources for MBA students seeking both US and global opportunities, not only the most exhaustive list of leadership development or rotational programs, but the research capabilities regarding jobs, hiring and insights into the MBA hiring market. It is one software platform that truly complements any recruiting software an office may be using. Wouldn't know where to refer my students for another one-stop resource at this high caliber, if MBA-Exchange.com wasn't available.

Mark Brostoff, Assistant Dean and Director, MBA Career Services, USC Marshall School of Business

The MBA-Exchange.com team delivers! They've been highly responsive and proactive in ensuring our student utilization objectives are met. It is also refreshing to see the continuous efforts to further improve their product. We have been very pleased

Randall Lewis, Executive Director, Purdue University

I have known MBA-Exchange.com for many years and I am always impressed by their ongoing innovation and ability to bring valuable services to MBA students. MBA-Exchange.com provide an intuitive and smooth user experience.

Catherine Chassanite,International Career Development Consultant, Audencia Business School
Corporate Clients Include
About MBA-Exchange.com
Helping MBA students explore the right jobs, leadership programs and employers, across industries and geographies, is our primary objective.
We bring them unique information unavailable anywhere else and make it easy to identify more career opportunities while saving them time.

We are careers experts, serving Masters, MBAs, Business Schools and Employers.
Learn more about us.
Get access to MBA jobs, development programs, employers, online events and more