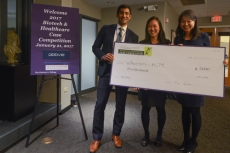 Kellogg Biotech & Healthcare Case Competition
January 30, 2021
It is the biggest business school case competition with the longest history in the healthcare space, sponsored in recent years by the biopharmaceutical company AbbVie, that brings together MBA-student teams from business schools nationwide.
Description
BIOTECH AND HEALTHCARE CASE COMPETITION

18th Annual Biotech and Healthcare Case Competition

This year's case competition will be held virtually on January 30, 2021. The link to apply will be available soon. The deadline to apply will be December 11, 2021. Teams will be notified with decisions on December 18th.

Teams should have 3, 4 or 5 members. Part-time and full-time students can apply. All team members must be students in graduate programs, with at least 2 members of each team enrolled in an MBA program.

Please note: We receive many applications, take the time to make your application stand out. Please feel free to submit supplemental.