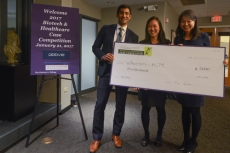 Kellogg Biotech & Healthcare Case Competition
January 20, 2018
It is the biggest business school case competition with the longest history in the healthcare space, sponsored in recent years by the biopharmaceutical company AbbVie, that brings together MBA-student teams from business schools nationwide.
Description
The 15th annual Kellogg Biotech & Healthcare Case Competition, sponsored by AbbVie, will be held on Saturday, January 20, 2018.
The 2018 competition will feature a challenging healthcare case. Teams from business schools around the world are welcome to apply to participate. Top prize will be $5,000.
Teams participating in the event will receive a case on January 12. They will then have seven days to prepare a presentation based on the information in the case. Topics have ranged considerably over the years, from forecasting sales of a new molecule to considering how best to reduce childhood mortality due to pneumonia in Uganda.
The case competition kicks off with an informal dinner on Friday, January 19. The following day, teams will present to a panel of judges. There is a debrief session at the end of the day, followed by dinner and the awards ceremony.
Participants can attend the Kellogg Healthcare Conference during their free time. The conference features a series of interesting key note and panel discussions.
Applications are due December 1, 2017. The application form will be available here soon. Teams are selected based on their experience and level of interest.
The 2017 competition featured a case that focused on building use of chlorhexidine in Nigeria as a way to reduce infant mortality. The case, developed in partnership with USAID, was challenging; teams had to consider multiple stakeholders and allocate scare resources. Judges were executives from AbbVie.
In 2015, Poets & Quants named the Kellogg Biotech and Healthcare Case Competition one of the Top 20 Global Business School Case Competitions.
Outcome
You can find the results for 2017 Competition by
clicking here.