Connecting MBAs and Employers
across the World
Create your Account
Already have an account? Login here
Find your next career move. Watch our 90-seconds video!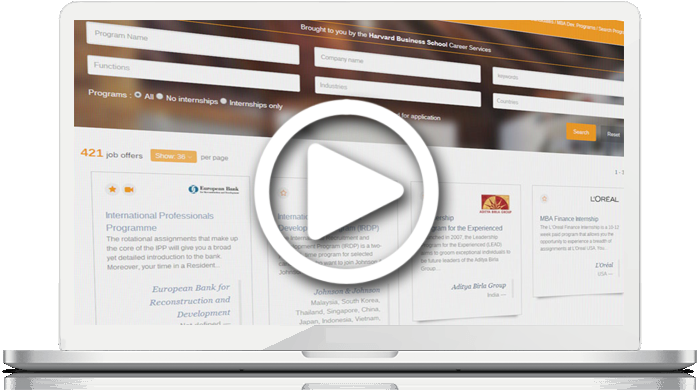 Discover how we can help you
A sample of what we have for you
Jan 21st
This sales executive will be responsible for solution development, sales forecasting, marketing strategies and product/program development in his/her assigned...

The Sourcing Institute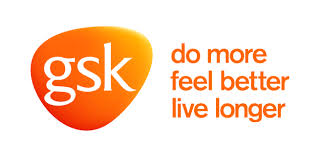 If you are currently studying towards an MBA, you may be interested in one of our Esprit internship opportunities. The Esprit Programme is GSK´s Global Talent development programme to create a pipeli...

Management Associate Program (MAP) was launched over 15 years ago with the aim of building a pipeline of future leaders by attracting and developing diverse, top-tier MBA talent. This 18-month compre...
Thomson Reuters
Who are the H1B sponsors in the USA? Where are the sponsored jobs, for what roles? This is what we explored in our H1B Sponsorship 2017 Business Profiles Report.. This article focuses on the USA Overv...
Jan 21st
Experience in advanced analysis, design techniques, and implementing multiple business applications. Collaborate proactively with other department managers to...

GC Services
Amgen Inc. is a biotechnology company. The Company discovers, develops, manufactures and delivers various human therapeutics. It operates in human therapeutics segment. Its marketed products portfolio...
To stand out in this crowded informational marketplace, itÂ's been more critical for businesses to offer a seamless and frictionless user experience that meet their needs. Modern consumers expect an o...

Jan 21st
Primary responsibilities include direct management of IH Marketing Team, maintaining an acceptable penetration rate of resort occupancy, maintaining an...

Wyndham Vacation Ownership

IFC's Young Professionals Program offers a unique opportunity to launch a global career as an investment professional helping to build the private sector in developing countries. Participants join as ...
International Finance Corporation

Experience real J&J business challenges.... Gain an insight to the healthcare industry.... See how your ideas and solutions can make a difference!. What mark will you make?
Amazon.com, Inc. offers a range of products and services through its Websites. The Company operates through three segments: North America, International and Amazon Web Services (AWS). The Company's pr...
You'll work in partnership with our industry leading team, developing and executing the strategies that drive long-term business growth for our clients – providing comprehensive advice, raising capit...
J.P. Morgan Chase

Are you an MBA student looking to build knowledge and expertise in sustainability? Do you want to test your business skills and solve complex problems? Would you like a chance to showcase your ideas i...

The ultimate goal is to allow students to apply their business education to deliver unique and creative recommendations.
Jobs
Development Programs
Employer Directory
Events
Knowledge
Here's what our members are saying...

Our students and staff have found MBA-Exchange.com to be one of the most user-friendly and comprehensive resources for MBA students seeking both US and global opportunities, not only the most exhaustive list of leadership development or rotational programs, but the research capabilities regarding jobs, hiring and insights into the MBA hiring market. It is one software platform that truly complements any recruiting software an office may be using. Wouldn't know where to refer my students for another one-stop resource at this high caliber, if MBA-Exchange.com wasn't available.

Mark Brostoff, Assistant Dean and Director, MBA Career Services, USC Marshall School of Business

I have been using MBA-Exchange.com to support our Mandarin Leadership Development Program recruitment campaign over the past 5 years. Every time, I am impressed by their customer focused attitude, speed and quality of the delivery and overall professionalism. They have helped us reaching our targeted potential candidates in an effective and efficient way, with limited internal resources involved. Well done and highly recommended!

Ann Zhu, Associate Director, China 2020 Talent at Bristol-Myers Squibb

The MBA-Exchange.com team delivers! They've been highly responsive and proactive in ensuring our student utilization objectives are met. It is also refreshing to see the continuous efforts to further improve their product. We have been very pleased

Randall Lewis, Executive Director, Purdue University

I have known MBA-Exchange.com for many years and I am always impressed by their ongoing innovation and ability to bring valuable services to MBA students. MBA-Exchange.com provide an intuitive and smooth user experience.

Catherine Chassanite,International Career Development Consultant, Audencia Business School
Corporate Clients Include
About MBA-Exchange.com
Helping MBA students explore the right jobs, leadership programs and employers, across industries and geographies, is our primary objective.
We bring them unique information unavailable anywhere else and make it easy to identify more career opportunities while saving them time.

We are careers experts, serving Masters, MBAs, Business Schools and Employers.
Learn more about us.
Get access to MBA jobs, development programs, employers, online events and more