Connecting MBAs and Employers
across the World
Create your Account
Already have an account? Login here
Find your next career move. Watch our 90-seconds video!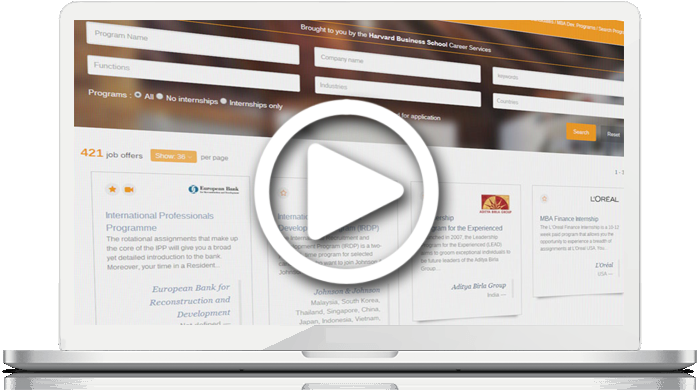 Discover how we can help you
A sample of what we have for you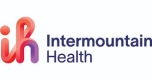 Apr 24th
Healthcare accounting or business experience. Bachelor's degree in Accounting, Finance, or other business related field,....

Intermountain Healthcare

For more than 25 years, the Johnson & Johnson International Recruitment and Development Program. (IRDP) has proven its value, both in accelerating the leadership potential of participants and in its s...
Johnson & Johnson
At HEC Paris we learn a lot about business and leadership, not only from books and cases, but also from hands-on projects. The most complex project we are involved in during the program is the MBAT (M...
The starting point for the expansion of the CELSA GROUP™ lies in the company itself, Celsa Barcelona, which, through continuous reinvestment of the resources generated, has grown due to successive ac...
Apr 24th
Human Resources and Information Technology Teams. Sales, Marketing, Editorial, Operations, Conference Managers & Staff....

Questex LLC
By Kristen Bahler. Striking the right balance between formal and conversational—while differentiating yourself from every other job seeker on the market—is no small feat. And the monotony of filling...

What You Can Expect. This 10-week summer program offers hands-on experience, excellent training and extensive exposure to various aspects of the firm. You'll start with one week of orientation, follow...
J.P. Morgan Chase
Apr 24th
Bachelor degree in Accounting, Finance or Information Systems. Information technology auditing experience preferred....

Corporate Office Properties Trust
Samsung Electronics Co., Ltd. is principally engaged in the manufacture and distribution of electronic products. The Company operates its business through three segments. The Consumer Electronics (CE)...

Master the art of organizational effectiveness faster with an eye toward leadership.. Succeed in the business of people. Are you fascinated by the interplay of business and people as it pertains to la...
Danaher Corporation
Through our partnership with Volontariat à l'International en Entreprise (VIE), HSBC France offers professional assignments abroad – for periods ranging from six months to two years – to those who...
HSBC
Jobs
Development Programs
Employer Directory
Events
Knowledge
Here's what our members are saying...

Our students and staff have found MBA-Exchange.com to be one of the most user-friendly and comprehensive resources for MBA students seeking both US and global opportunities, not only the most exhaustive list of leadership development or rotational programs, but the research capabilities regarding jobs, hiring and insights into the MBA hiring market. It is one software platform that truly complements any recruiting software an office may be using. Wouldn't know where to refer my students for another one-stop resource at this high caliber, if MBA-Exchange.com wasn't available.

Mark Brostoff, Assistant Dean and Director, MBA Career Services, USC Marshall School of Business

The MBA-Exchange.com team delivers! They've been highly responsive and proactive in ensuring our student utilization objectives are met. It is also refreshing to see the continuous efforts to further improve their product. We have been very pleased

Randall Lewis, Executive Director, Purdue University

I have known MBA-Exchange.com for many years and I am always impressed by their ongoing innovation and ability to bring valuable services to MBA students. MBA-Exchange.com provide an intuitive and smooth user experience.

Catherine Chassanite,International Career Development Consultant, Audencia Business School
Corporate Clients Include
About MBA-Exchange.com
Helping MBA students explore the right jobs, leadership programs and employers, across industries and geographies, is our primary objective.
We bring them unique information unavailable anywhere else and make it easy to identify more career opportunities while saving them time.

We are careers experts, serving Masters, MBAs, Business Schools and Employers.
Learn more about us.
Get access to MBA jobs, development programs, employers, online events and more