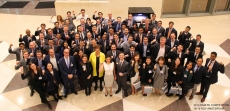 RSM Private Equity Competition
November 18, 2017
RSM Full-Time MBA students are pleased to invite you to participate in this exciting yet challenging annual event that brings top finance talents to the Netherlands. The 2018 Private Equity Competition aims to provide participants the opportunity to enhance their Private Equity case analysis and presentation skills, and to connect them with international professionals from Private Equity and Finance.
Description
7th Annual Rotterdam School of Management Private Equity Competition

The 2018 PE Competition is a great opportunity for MBA students to:
- Network: with students and professionals in Private Equity, Finance, and Academia
- Learn: by solving a real case and presenting the proposal to a panel of judges

The participating teams will receive a real Private Equity case ahead of the event and are requested to submit their proposals, which will then be reviewed by the jury.

The main event consists of two days that will boost your Private Equity profile. During the first day, you will have the opportunity to attend a Symposium followed by the welcome dinner and a geat opportunity to network. The next day, both rounds 1 and 2 of the competition will take place, followed by the Award Ceremony.

Only one team of 4-5 MBA students from each Business School.

Outcome
2015 winner: IMD
2nd place: LBS
3rd place: ESADE

Below are all participating schools of 2016.
Eligible Schools
Alliance Manchester Business School
Columbia Business School
Cranfield School Of Management
ESADE
FGV-EAESP - Escola de Administraçao de Empresas de Sao Paulo
HEC Paris
Hong Kong University Of Science And Technology
IE Business School
IESE Business School
INSEAD
London Business School
NYU Stern School Of Business - New York University
Oxford - Said Business School
Rotterdam School Of Management
SDA Bocconi School Of Management
Wharton School