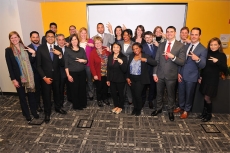 Accenture MBA Innovation Challenge
January 19, 2018
"Take part in the Accenture Innovation Challenge and do well by doing good." The Accenture Innovation Challenge is the challenge with a difference. This multi-round event combines hands-on consulting experience with the opportunity to make a positive impact on society. You will work with a team to collaboratively develop a solution for a case based on a real-world challenge faced by a national non-profit.
Description
About the Competition

- Work in consulting-style teams and benefit from mentoring by Accenture staff
- Develop an innovative idea to solve a real-life challenge faced by our non-profit partner, United States for United Nations High Commissioner for Refugees (UNHCR)
- Compete for the opportunity to pitch your team's idea to our non-profit partner and Accenture senior leadership
- Make a real impact: the winning team will join Accenture for an Innovation Experience to develop the plan to potentially put their idea into practice

Turning Issue Into Outcome

For past Innovation Challenges, Accenture partnered with national non-profits to provide student participants with real-life challenges to solve. In conjunction with members of the winning student teams, Accenture worked with the non-profit partners to implement solutions proposed during the annual Innovation Challenge.

- Goodwill (2013) - An innovative digital strategy was developed to effectively improve the financial wellness of low-income families in the U.S.
- World Vision (2014) - A flexible education model to bridge the gap in student learning between fragile states and more stable states.
- Back on My Feet (2015) - A creative solution was developed to help the non-profit double its reach by 2020.

2016 Outcome

- University of Michigan Ross School of Business.