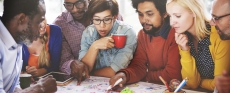 BBVA Open Talent
December 10, 2019
Do you have an innovative startup that could transform the financial sector? Then you're just what we're looking for! Dazzle us at BBVA Open Talent 2019: the world's biggest fintech competition. You have until the 5th of July to register.
Description
What exactly is BBVA Open Talent?
It is the world's biggest fintech startup competition It is our way of finding the most innovative technology solutions and driving them forward, working together to shine a light on emerging projects capable of transforming the financial sector. It is a form of open collaboration that allows us to continue creating opportunities for the talent of now and that of the future.

We want to see your ability to innovate, for you to show us ideas capable of improving the relationship people have with their finances, disruptive fintech solutions and revolutionary business proposals. We're looking for pure talent. In short: we're looking for you.

PREREQUISITES

- Startups incorporated from the 1st January 2016, onwards
- Startups that have not received more than 2 million euros in financing
- FinTech or finTech-related startups.
- Startups that at least have a demo or beta prototype.