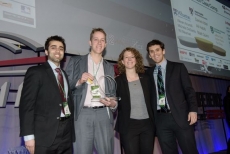 First Pitch Graduate Sports Business Case Competition
February 24, 2018
Every year, the MIT Sloan Sports Analytics Conference hosts the First Pitch Case Competition for top graduate students from around the globe who are attending the conference. The competition allows evaluation and analysis of a major sports organization's most challenging issues while providing a networking and educational platform for graduate students with sports career aspirations. In teams of three, students are tasked with analyzing and suggesting solutions for a challenging sports business issue. Previous years cases have been developed in conjunction with Ticketmaster, Zebra Technologies, MLB Advanced Media, the NFL, and AECOM.
Description
Eligibility:

Teams must consist of three (3) current students from the same graduate program. All team members must be registered and have paid for the MIT Sloan Sports Analytics Conference at the time of registering for First Pitch. There will be no additional fee to participate in First Pitch.

Officiating:

The opening round judging will be "program-blind" (i.e. judges will not know the school of each team). Presentations must not reveal graduate program other than on introduction and/or conclusion slides. Judging will be scored using the following:
- Presentation - 30 points
- Thoughtfulness/thoroughness of response - 50 points
- Creativity - 20 points
The evaluation of the top three teams will be done by a panel of industry experts chosen by the Sloan Sports Analytics Conference organizers. The officials will evaluate each team's analytical ability, decision-making, creativity, and thoughtfulness of recommendations, as well as the actual delivery. The officials reserve the right to determine the winning team and the rankings of the teams to follow.

Synopsis of the 2015 Event

The 2015 conference featured the fifth annual First Pitch Graduate Sports Business Case Competition. The competition was sponsored by Zebra Technologies and provided students a forum to analyze and suggest solutions for a challenging business issue. In 2015, 23 teams from top global graduate programs participated. The three finalist teams presented at the conference on Saturday, February 28th.

Snapshot of the 2015 Case

In 2014, Zebra Technology Corporation launched "MotionWorks," a real-time player tracking system that uses patented RFID technology. The NFL selected Zebra's MotionWorks system to integrate league-wide to enhance an important segment of its business previously limited to after-the-fact data and to form an integral component of a sweeping effort to introduce "Next Generation Statistics" (NGS). Beginning with the 2014 NFL season, all players wear Zebra tracking chips that provide never-before available data from game day. Zebra's real-time technology has innumerable applications that can enable real-time insights to drive coaching and player evaluation decisions and real-time entertainment value for fans. Zebra is interested in understanding how its tools and the NGS platform can be monetized off the field and to recast the consumer experience including how fans consume sports across multiple media such as in-stadium, digital, fantasy, mobile and the gaming application space.

Teams of 3 members.

2015 Outcome

1st Place - Harvard Business School
2nd Place - The Wharton School
3rd Place - Tuck School of Business
Prize
Each of the top three teams will receive a prize determined by the Sloan Sports Analytics Conference organizers and sponsoring company. Any team that withdraws or is disqualified from the competition will not be entitled to any prizes.