Connecting MBAs and Employers
across the World
Create your Account
Already have an account? Login here
Find your next career move. Watch our 90-seconds video!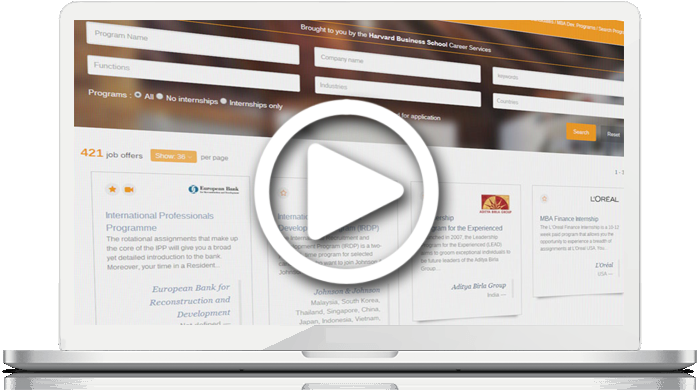 Discover how we can help you
A sample of what we have for you
Jul 24th
The Financial Analyst (FA) for EPS reports to the Director of Finance and s/he will manage all finance, procurement, and accounting activities for several...

Stanford University
Case Interviews in Consulting - Oct 9th

For the past three decades Marc Cosentino's work has towered over the field of case interviews.The Wall Street Journal calls his book Case in Point the MBA Bible which is one of the many reasons why ...

Chevron's Downstream & Chemicals Graduate Development Program attracts MBA graduates from top-tier universities who are enthusiastic about professional development and aspire to work in a quickly chan...
Chevron Corporation
This article is part of the "2017 Ranking of MBA Development Programs." The ranking of the Development Programs by Business Area has been divided into 5 categories, i.e. Commercial, Finance, HR, Opera...
Jul 24th
Portfolio Monitoring Analyst. Also, you will maintains a compliance monitoring database that tracks credit approval requirements and receipt of customer's...

U.S. Bank
International Business Machines Corporation (IBM) is a technology company. The Company operates through five segments: Cognitive Solutions, Global Business Services (GBS), Technology Services & Cl...
This article is part of the "2017 Ranking of MBA Development Programs." The ranking of the Development Programs by Business Area has been divided into 5 categories, i.e. Commercial, Finance, HR, Opera...
Jul 24th
Bachelor degree (BS/BA) in Organizational Development, Human Resources, Business, or in a related field desired;...

ICI Services Corporation

Job Description . Join Intel - and build a better tomorrow. . Intel is in the midst of an exciting transformation, with a vision to create and extend computing technology to connect and enrich the liv...
Intel Corporation

Don Leslie is one of BLT's founders, and is responsible for the Management Consultancy recruitment team. His consulting market focus has changed over the years from government to strategy to technolo...
L'Oreal S.A. is a holding company. The Company operates through two operational divisions: Cosmetics Division and Body Shop Division. The Cosmetics Division is organized into four divisions: Professio...

Are you passionate, talented and ambitious? Then the Esprit summer internship programme could be for you. We're looking for individuals who can apply both academic excellence and commercial acumen in ...
GlaxoSmithKline
Jobs
Development Programs
Employer Directory
Events
Knowledge
Here's what our members are saying...

Our students and staff have found MBA-Exchange.com to be one of the most user-friendly and comprehensive resources for MBA students seeking both US and global opportunities, not only the most exhaustive list of leadership development or rotational programs, but the research capabilities regarding jobs, hiring and insights into the MBA hiring market. It is one software platform that truly complements any recruiting software an office may be using. Wouldn't know where to refer my students for another one-stop resource at this high caliber, if MBA-Exchange.com wasn't available.

Mark Brostoff, Assistant Dean and Director, MBA Career Services, USC Marshall School of Business

I have been using MBA-Exchange.com to support our Mandarin Leadership Development Program recruitment campaign over the past 5 years. Every time, I am impressed by their customer focused attitude, speed and quality of the delivery and overall professionalism. They have helped us reaching our targeted potential candidates in an effective and efficient way, with limited internal resources involved. Well done and highly recommended!

Ann Zhu, Associate Director, China 2020 Talent at Bristol-Myers Squibb

The MBA-Exchange.com team delivers! They've been highly responsive and proactive in ensuring our student utilization objectives are met. It is also refreshing to see the continuous efforts to further improve their product. We have been very pleased

Randall Lewis, Executive Director, Purdue University

I have known MBA-Exchange.com for many years and I am always impressed by their ongoing innovation and ability to bring valuable services to MBA students. MBA-Exchange.com provide an intuitive and smooth user experience.

Catherine Chassanite,International Career Development Consultant, Audencia Business School
Corporate Clients Include
About MBA-Exchange.com
Helping MBA students explore the right jobs, leadership programs and employers, across industries and geographies, is our primary objective.
We bring them unique information unavailable anywhere else and make it easy to identify more career opportunities while saving them time.

We are careers experts, serving Masters, MBAs, Business Schools and Employers.
Learn more about us.
Get access to MBA jobs, development programs, employers, online events and more