Connecting MBAs and Employers
across the World
Create your Account
Already have an account? Login here
Find your next career move. Watch our 90-seconds video!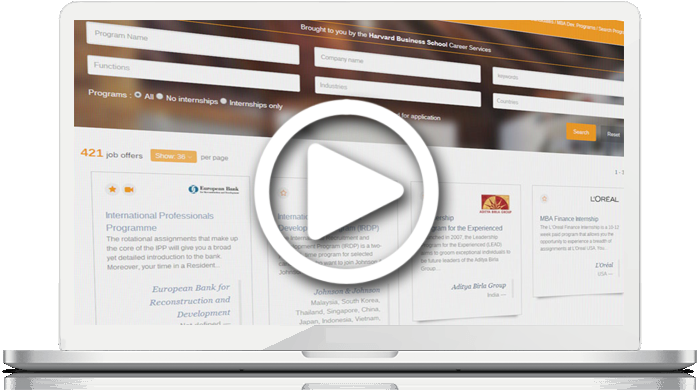 Discover how we can help you
A sample of what we have for you

Apr 25th
And assisting the Portfolio Risk Manager in his/her communication of risks to portfolio managers, senior management, clients, prospective clients, consultants,...

T. Rowe Price

For more than 25 years, the Johnson & Johnson International Recruitment and Development Program. (IRDP) has proven its value, both in accelerating the leadership potential of participants and in its s...
Johnson & Johnson
At HEC Paris we learn a lot about business and leadership, not only from books and cases, but also from hands-on projects. The most complex project we are involved in during the program is the MBAT (M...
Intel Corporation is engaged in designing and manufacturing products and technologies, such as the cloud. The Company's segments are Client Computing Group (CCG), Data Center Group (DCG), Internet of ...
Apr 25th
Bachelor's degree in business, finance, computer science, information management, or equivalent experience. Minimum of 5 years professional experience working...

CareFirst BlueCross BlueShield
By Kristen Bahler. Striking the right balance between formal and conversational—while differentiating yourself from every other job seeker on the market—is no small feat. And the monotony of filling...
Are you a results-driven individual who finds that others typically gravitate towards your ideas and follow your lead? Are you excited by navigating new markets and cultures to grow opportunities? Ar...
Specialized Bicycle Components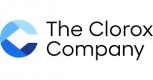 Apr 25th
These projects provide valuable margin, productivity, and quality improvement while helping meet key business objectives....

Clorox
Cargill may be private, but it's highly visible. The agribusiness giant, the largest private corporation in the US, has operations in 67 countries. It has four business units -- Agriculture Nutrition ...

We are a transformation agent. We transform information into knowledge. And we believe the right information in the right hands leads to amazing things.. Work That Matters. At Thomson Reuters, our Man...
Thomson Reuters

The Graduate Internship Program provides participants with:. - A challenging project scoped for the 10 week opportunity that provides a solution to a high level business initiative. - Training, develo...
McKesson Corporation
Jobs
Development Programs
Employer Directory
Events
Knowledge
Here's what our members are saying...

Our students and staff have found MBA-Exchange.com to be one of the most user-friendly and comprehensive resources for MBA students seeking both US and global opportunities, not only the most exhaustive list of leadership development or rotational programs, but the research capabilities regarding jobs, hiring and insights into the MBA hiring market. It is one software platform that truly complements any recruiting software an office may be using. Wouldn't know where to refer my students for another one-stop resource at this high caliber, if MBA-Exchange.com wasn't available.

Mark Brostoff, Assistant Dean and Director, MBA Career Services, USC Marshall School of Business

The MBA-Exchange.com team delivers! They've been highly responsive and proactive in ensuring our student utilization objectives are met. It is also refreshing to see the continuous efforts to further improve their product. We have been very pleased

Randall Lewis, Executive Director, Purdue University

I have known MBA-Exchange.com for many years and I am always impressed by their ongoing innovation and ability to bring valuable services to MBA students. MBA-Exchange.com provide an intuitive and smooth user experience.

Catherine Chassanite,International Career Development Consultant, Audencia Business School
Corporate Clients Include
About MBA-Exchange.com
Helping MBA students explore the right jobs, leadership programs and employers, across industries and geographies, is our primary objective.
We bring them unique information unavailable anywhere else and make it easy to identify more career opportunities while saving them time.

We are careers experts, serving Masters, MBAs, Business Schools and Employers.
Learn more about us.
Get access to MBA jobs, development programs, employers, online events and more